April 12, 2016
Dear Beneficial Policyholder,
Beneficial Life Insurance Company is pleased to celebrate its 110th anniversary of serving our policyholders and protecting families. We are also happy for the opportunity to update you on our continued financial strength and stability.
Our recently completed financial statements for the year ending December 31, 2015 show statutory assets of $2.79 billion, backing policyholder liabilities of $2.2 billion, leaving $585 million in adjusted capital and surplus. Our ratio of capital and surplus (money that exceeds our contractual obligations to our policyholders) is one of the strongest in the insurance industry.
While you can rest assured that Beneficial is on solid financial footing, we recognize you may have questions or concerns about your life insurance or annuity policy. Your Beneficial financial professional is always a helpful resource to turn to, and we have a fully staffed customer service department ready and anxious to answer any question or help with any need you may have regarding your life insurance or annuity. You may reach a trained Beneficial customer service representative by calling (800) 233-7979 between the hours of 8:00 a.m. and 5:00 p.m. (MST) Monday, Tuesday, Thursday and Friday and Wednesday from 9:00 a.m. to 5:00 pm. You may also access information about your account on our website, www.BeneficialFinancialGroup.com. If you need help accessing your account online, simply call a customer service representative to assist you.
Beneficial has the financial strength to deliver on the commitments made to you when you bought your life insurance policy or annuity. We are steadfast in our commitment to meet all of our contractual obligations to our policyholders. You can depend on Beneficial to be there when you need us most. Thank you for your continued confidence in us.
Sincerely,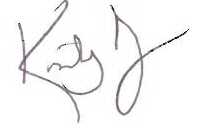 T Kirby Brown Jr.
President and CEO